Colour Sensational Kisses Kim Vallee
Monday November 23, 2009 by
Ali
Sponsored Feature
This week's Style Collective kiss is from Montreal Blogger and home decor expert, Kim Vallée!
Kim wears Maybelline New York Color Sensational Lipstick in Blushing Brunette

Kim is a lifestyle and entertaining expert, editor and writer. She provides inspiration and
solutions to busy women with
At Home with Kim Vallée
, an online guide for stylish living and easy entertaining.
ChickAdvisor:
Why did you start your site and when?
?
Kim:
I always wanted to be the editor of a women's magazine. I buy tons of cooking and home decor magazines every month. Trained as an interior designer, I love everything that has to do with the home, except cleaning it. I blogged casually for two years in French before launching At Home. Even then, I only read blogs and magazines written in English. So, I woke up one morning in January of 2007 with the guts to start publishing in the language of Shakespeare. I've never looked back. I found my calling with At Home.
ChickAdvisor:
Who is your fashion icon?
Kim:
Coco Chanel is an inspiration. She represented elegance and non conformity. Plus, she left us with an amazing fashion legacy. I also like the look of Audrey Hepburn in Breakfast at Tiffany's. I am a mix between modern and traditional.
ChickAdvisor:
What colour of
Color Sensational lipstick
did you pick?
?
Kim:
I picked Blushing Brunette. This medium neutral shade has just a little hint of pink to make it interesting, which is what I am looking for.
ChickAdvisor:
What makes you excited to wear this colour? ??
Kim:
With my busy schedule, I do a quick makeup application in the morning. Therefore, I am looking for a lipstick color that brightens my face. Since I may get a surprise event, I am glad that Blushing Brunette makes enough of an impact to wear it at night. A quick adjustment to my eyeshadow tones, a touch up to my lipstick and voilà, I am ready to mingle with guests at a party.
ChickAdvisor:
What is the most glamorous or exciting part of your job?
Kim:
The best part is to be invited to events where I taste the food of amazing chefs and drink champagne. On a day to day basis, I love discovering new designers, to have control over my editorial and the fact that bloggers talk about what is hot today. My brother also has his own business. My parents were both merchants so you can say that being our own boss runs in our blood.
ChickAdvisor:
What is the least?
Kim:
I am sad that I ran out of kitchen cabinets to put all the tableware I wish to have.
ChickAdvisor:
Our cupboards are full of lipstick! Can you talk us through what's inside those cabinets?
Kim:
I collect tableware, cookbooks and table linens. My bar is kept full and all equipped with the latest trends in barware. Being well stocked simplifies the life of any hostess. I also keep props that consist of pairs of plates, napkins and glasses that I use for photo shoots.
Although I do not talk about it, I spend a lot on perfume, makeup and beauty products. My mother thought me at 13 years old the ritual of cleansing your skin. It has been a ritual ever since.
Kim's makeup collection looks edible!
I decided to merge the two by designing a vignette where I treated my makeup as cookies, chocolate and small cakes. It was fun to do.
ChickAdvisor:
Looks delicious! If only makeup tasted as good as it looks in your picture...
Check out more of Kim's tips on home and decor on
At Home with Kim Vallée
.
Get another kiss
Get the scoop on the Style Collective
Choose your own shade of Maybelline New York Color Sensational Lip color
More by
Ali
More on
Blogs We Love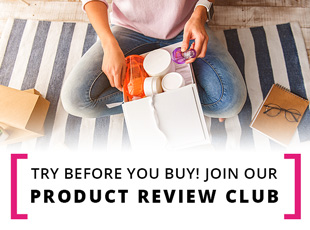 Previous Articles