atasteofmadness
. on May 24, 2016 @ 12:56 pm

I actually got some products from Biore from Influenster (the baking soda line) and I found that it helps a lot to get clear skin! Actually, I love all of their products. The charcoal line is also great.
fly_eyez
Acne on May 24, 2016 @ 02:48 pm

Ohhh, the adult acne thing has hit me now that I'm in my 30's and it sucks! I escaped my teens with perfect skin minus the odd tiny blemish. I get blackheads so bad now. I use some really great exfoliators with tiny exfoliating bits (the smaller, the better). I've recently been using Clarins One Step Exfoliator, Clearasil Daily Clear 3 in 1, Biore Deep Pore Charcoal Cleanser, Aveeno Skin Brightening Daily Scrub, Aveeno Clear Complexion moisturizer, Biore Charcoal Cleansing Bar, St. Ives Blackhead Clearing Green Tea Scrub, Clean & Clear blackhead clearing astringent, Vichy Normaderm deep cleansing purifying gel, Good Things Multi-tasking Micellar Water & Clinique 7 day scrub cream. Obviously not all at once, I mix them up. Most importantly I use a hand held cleansing wand which is gentle but really effective. I can't afford the Clarisonic one unfortunately but mine is ok. I also purchased Origins Clear Improvement active charcoal mask, Clinique pore refining solutions charcoal mask, Kiehl's Blemish Control and Vichy BB Clear anti acne beauty balm, all which I have not tried yet.
All the ones I listed at the top are good and my skin is almost completely clear now. I always follow up with a very good moisturizer or facial oil afterwards. One of my favorites right now is Shishedo Ibuki Sleep Mask (it's not really a mask but a very watery gel like moisture product that comes in a jar). It's really goopy and weird but it's like water sinking into your skin and you wake up with super soft quenched skin. It's really espensive - I didn't buy it, I won a set of products in an online luxury beauty giveaway. There's no way I would pay that kind of $$$ for a moisturizing goop I'd never tried before. Good luck! I hope you find something that works for you :)
wonderwhatif
Acne on May 24, 2016 @ 07:06 pm

If it's really bad and nothing seems to help, often a dermatologist can advise if you have insurance!
KelseySomerville
. on May 25, 2016 @ 12:31 pm

I have really oily skin and I'm prone to break outs as well but I actually found that the more products I used trying to stop my break outs, the more break outs I had! Don't exfoliate every day because that will make it worse, get a cleanser for every day use and a scrub to use a couple times a week. Clearasil cream is awesome and super fast working. Moisturize every day! I love Dark Angels Cleanser from Lush and they have a lot of amazing fresh face masks that will calm the redness and make break outs stand out less. Also, witch hazel is a magic ingredient. Olay has an oil minimizing toner with witch hazel that was amazing. I also really like the Tea Tree Water from Lush.
Khaleesi86
Age? on May 25, 2016 @ 06:21 pm

How old are you? I as because once you're no longer a team you need to stop using products that are designed for teens.
I have oily skin and I use Dickinson's Witch Hazel Astringent. A LOT. 2 full cotton pads 2-3 times per day if I'm not wearing make-up. It's perfect for drying out my skin without actually drying out my skin.
I also use Avene Daily Cleanance Gel. It's a little expensive and again it's soapy so has that drying effect without actually being drying.
Even though I have oily skin I moisturize a lot. I haven't found one that speaks to me yet so I usually use what's on sale until I find one I like.
I also tan once every 2 weeks as a way to zap the oil.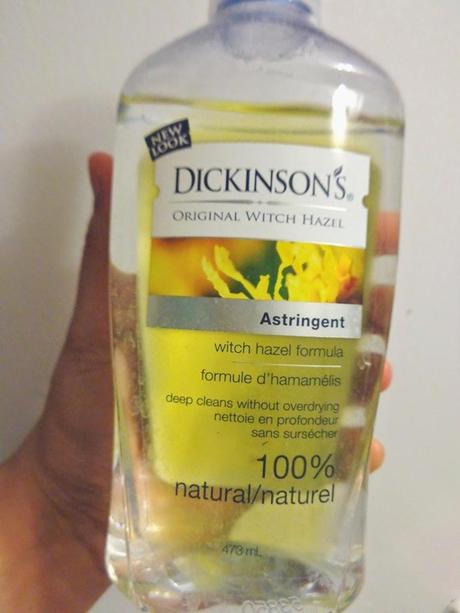 tarynslawter
Paulas choice on Jun 02, 2016 @ 01:48 pm

Thank you for the advice, I recently purchased a skin care kit from Paula's choice, I read her book and am hoping it will work. It should be here by next week.