Ali de Bold
It's not that racey on Dec 17, 2010 @ 10:44 am

But anything without undies is gross to me.
mamaluv
agree on Dec 17, 2010 @ 11:02 am

Yes, that's what I love about this dress is that it's not racey. But the bare butt thing just isn't doing it for me...

jchang212
Stop at Hip on Dec 17, 2010 @ 11:13 am

I think it'd look a lot better and classier if the slit stopped at about the hip area, so undies would still be an option!
spotty
not who its meant for ... on Dec 17, 2010 @ 11:18 am

I don't think the dress is meant to do it for

you

, per se, mamaluv! ;-) But perhaps for men or lesbians ... as you mentioned, sex sells!

I like the dress. Its elegant and seductive. Would I wear it? No.

cathy3087
Not a fan of this dress on Dec 17, 2010 @ 01:17 pm

I think Gwyneth is stunning and I usually worship her style but I think the front of this dress is a bore and the slit at the side looks cheap to me.
jchang212
Katie Cassidy following "suit" on Dec 20, 2010 @ 11:59 am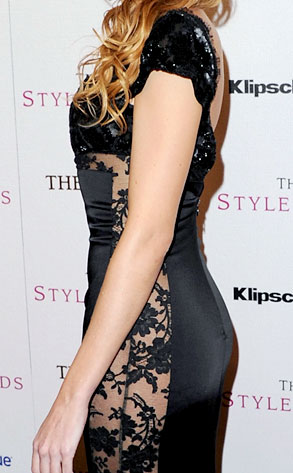 cathy3087
but I like this one on Dec 22, 2010 @ 10:56 am

Katie Cassidy's dress has some pizzazz to it - it's fabulous!

Gwyneth's would have looked good in this one too
jchang212
Princess Leia? on Dec 22, 2010 @ 11:03 am

I don't know...from the front, Gwyneth's dress reminds me of princess leia's dress!
MaryD
I like.... on Dec 22, 2010 @ 11:21 am

Katie Cassidy's dress MUCH better than Gwyneth's. The lace adds a touch of class to a pretty revealing dress. I completely agree with Cathy, Gwyneth's dress looks rather 'cheap.'