ChickAdvisor Premium Frequently Asked Questions
If you're reading this post, then you've already heard the amazing news about
#ChickAdvisorPremium
! Since this is a brand new offer from us, we know you have questions. Without further ado:
What is ChickAdvisorPremium exactly?
Think of it like our two signature events (
ShowCase
and
ShopCrawl
) rolled into one, but this time, it's not limited to just Toronto, Montreal or Vancouver! Subscribers will receive exclusive access to great shopping deals from your favourite retailers PLUS an amazing welcome gift of beauty products that are yours to keep. The value of the welcome gift will be more than the cost of your subscription.
How long is my subscription valid for? Is it a yearly or monthly subscription?
Subscriptions are valid for one full year from the date of activation (more on that in a moment). As your expiry date approaches, we'll send you a reminder to renew. If you do not renew, your subscription will automatically be cancelled. We only offer a 1-year membership.
When can I sign up for a membership?

Sign ups are ongoing but memberships are activated four times per year (each season). Your membership is valid starting on the activation date, so even if you sign up a few months before the next season, you will still have a full 12 months of perks.
Example:
Winter 2017 subscription will be open until December 15, 2016. Your membership would begin on January 1, 2017 and be valid until December 31, 2017
When do I get my welcome gift? Is the gift always the same?

Welcome gifts will be sent out 2-4 weeks after the activation date. As we negotiate with our brand partners for welcome gifts throughout the year, the gift may change from season to season. However, the value and appeal of the gift will be similar every time.
What if I change my mind? Do you offer refunds?
Cancellations for refund are available within 30 days of your purchase OR before your welcome package has been sent out, whichever is sooner. If your welcome gift has already been sent, we cannot refund your subscription.
What if I don't like the welcome gift or the offers? Can I get a refund?
If you don't like your welcome gift or your monthly offers, think of it like this: you have just saved yourself over $100 on a beautiful gift for a friend ;) It is impossible to please everyone but please know we are trying our very best. And again, we cannot offer refunds after your gift has shipped - no exceptions.
Why can't I see what the welcome gift and shopping discounts will be before I decide to subscribe?
Sometimes this information will be available in advance and sometimes it won't. It is simply a factor of where we're at in negotiation with our brand partners. Stay tuned to our Facebook, Instagram, and Twitter feeds for spoilers as we release them!
Is there a reward for referring my friends?

Yes! For every friend you refer who ends up subscribing, you'll earn a $5 Amazon.ca e-gift card. We send these out in batches each month. To avoid any confusion about refunds, your referral will only be validated after your friend's refund window has passed. There is no maximum to the number of Amazon.ca e-gift cards you could earn due to valid referred subscriptions.
How do I check my referral status?

Visit this link (http://chickadvisor.referralcandy.com/). Create a profile by entering your email and name (note: you may need to click below the word "email" for the box to show). You will be sent an activation link by email which you must click to proceed. This returns you to your referralcandy page where you create a login. Once logged in, look for the "Track Your Rewards" link in the upper right corner to see your referral status. You can click "Refer Your Friends" to view your referral link.
How can I pay for my subscription?
You must go through our shopping portal at
ChickAdvisor.shop
. The portal accepts major credit cards and Paypal. We cannot accept personal cheques or cash payments, sorry.
Will the subscriptions sell out? What happens if they sell out before the sign-up period closes?
Yes, we will only have a limited number of subscriptions available per season. If we're sold out, you will be able to buy for the next season. As our membership grows, we plan to increase the number of subscriptions offered. Bottom line: don't delay!
How will you send me updates or details on my exclusive deals?

You will be asked for your email during sign-up, and that's how we'll communicate with you. We never sell your email to a third party, and your address will only be used for sending you products. Please make sure that @ChickAdvisor.com emails are marked as "safe" with your email provider to avoid your notifications going to your spam folder.
I don't live in Canada. Can I still subscribe?
Sorry, ChickAdvisor Premium is currently only offered in Canada at this time.
Why do I have to pay for this? I thought ChickAdvisor was free!
Yes, using our site and being part of our
Product Review Club
is still absolutely free! ChickAdvisor Premium is an exclusive upgrade to your membership, and you will be getting products and offers which are not available to our regular members.
Why must I pay in advance?
Because your card will only be charged once (i.e. not a recurring fee), we are actually not allowed to retain your credit card information for more than 7 days. The spots are limited and this is your only way to guarantee your subscription.
Will being a ChickAdvisor Premium member increase my chances of being selected for the Product Review Club?
No, these are separate programs on ChickAdvisor. The best way to increase your Review Club chances is to be active on our site by posting reviews, etc.
DATES TO NOTE

Sign-Up periods:
Winter - open until December 15 (activated on January 1)

Spring - open until March 15 (activated on April 1)
Summer - open until June 15 (activated on July 1)
Fall - open until September 15 (activated on October 1)
Welcome package anticipated mail dates:
Winter - mid January
Spring - mid April
Summer - mid July
Fall - mid October
Any more questions? Post them in the comments below!
CLICK HERE TO BUY YOUR CHICKADVISOR PREMIUM MEMBERSHIP NOW!
More by
ChickAdvisor Team
More on
Deals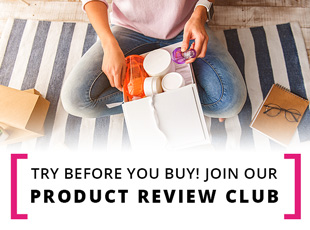 Previous Articles