BREAKING NEWS: ChickAdvisor Reviewers' Choice Awards 2016 Announced!
Join us in congratulating these great brands for their top-ranked Beauty, Wellness, and Food products based on your reviews posted in 2016!
Why does this matter? In our most recent Annual Member Survey,
over 90% of our users said they purchased a product because of reviews they read on ChickAdvisor
. In another recent Member Survey, almost 90% of users said they would be reluctant to buy a new product without having access to reviews first.
Your reviews are making a difference!
So when our members give high marks to products they've tried, that means more than any paid spokesperson or selectively produced advertising. And so without further ado...
BEST IN MAKEUP & HAIR
Eye Shadow:
Urban Decay Naked 3 Palette
Mascara:
Benefit Cosmetics They're Real! Mascara
Eyebrow Care:
Anastasia Beverly Hills Dipbrow Pomade
Hair Care:
Dove Pure Care Dry Oil Nourishing Hair Treatment with African Macadamia Oil
Lip Balm:
Softlips CUBE
Lip Gloss:
NYX Cosmetics Butter Gloss
CC Cream:
NIVEA Q10plus Anti-Wrinkle CC Tinted Moisturizer
Concealer:
Maybelline New York Instant Age Rewind Eraser Dark Circles Treatment Concealer
Foundation:
Maybelline New York Dream Velvet Foundation
Primer:
Smashbox Photo Finish Foundation Primer
Powder:
Rimmel London Stay Matte Pressed Powder
BEST IN SKINCARE & CLEANSING
Eye Makeup Remover:
NIVEA Express Eye Make-Up Remover
Facial Wipes:
NIVEA 3-in-1 Gentle Cleansing Wipes
Acne Treatment:
Vichy Normaderm Deep Cleansing Purifying Gel
Facial Cleansers:
Garnier SkinActive Micellar Water
Facial Spray:
Vichy Thermal Spa Water
Anti-Aging Serum:
Vichy Neovadiol Compensating Complex Serum
Beauty Oil:
Lipidol Overnight Face Oil
Facial Lotions & Creams:
Garnier SkinActive Clearly Brighter Brightening & Smoothing Moisturizer
Eye Cream:
Aqualia Thermal Awakening Eye Balm
Anti-Aging/Wrinkle Cream:
NIVEA Q10plus Anti-Wrinkle Serum Pearls
Serum:
Vichy Idealia Life Serum
Sun Protection:
Vichy Idéal Soleil Ultra Light Lotion SPF 50
Nail Care:
Burt's Bees Lemon Butter Cuticle Cream
Foot Care:
Eucerin Repair Foot Cream 10% Urea
Hand Lotion & Cream:
NIVEA Q10plus Anti-Age Hand Cream
Nail Polish:
CND VINYLUX Weekly Polish
Body Wash:
Vichy Ideal Body Spa Shower Gel-Cream
Conditioner:
Dove Nutritive Solutions Daily Moisture Conditioner
Shampoo:
Dove Nutritive Solutions Daily Moisture Shampoo
In-Shower Body Moisturizer:
NIVEA In-Shower Cocoa Butter Body Lotion
Deodorant/Anti-perspirant:
Dove Advanced Care Antiperspirant Stick Original
Dry Shampoo:
Batiste Dry Shampoo Original Clean & Classic
BEST IN FOOD & DRINK
Chocolate:
Brookside Chocolate Tablet Bars
Yogurt:
Oikos Greek Yogurt
Soft Drinks:
Canada Dry Blackberry Ginger Ale
White Wine:
Barefoot Moscato
BEST IN HOME & PETS
Cat Litter:
Arm & Hammer Clump & Seal LightWeight Litter
Dog Food & Treats:
Nutrience Grain Free SubZero Dog Food
Cat Food & Treats:
Nutrience Grain Free SubZero Cat Food
Laundry Care:
Downy Unstopables Fresh In Wash Scent Booster
Mouthwashes & Rinses:
Crest Pro-Health Multi-Protection Rinse
Toothbrushes:
Arm & Hammer Spinbrush Truly Radiant Toothbrush
Toothpastes:
Arm & Hammer Truly Radiant Clean & Fresh Toothpaste
Congratulations to all of our winners! Which of your favourite products made our list?
More by
ChickAdvisor Team
More on
Best of Beauty
,
Reviewers' Choice Awards
Facebook Comments
21 Comments



This is a great list, I agree with most of these products and added a few that I must try.
Even though I wasn't a member when the survey went out, I agree with the majority, I too check reviews on all beauty products and most household before I buy them!




Love so many of these products!




I have tried many of these products and I'm interested in trying the ones I have not tried yet! So excited!!




Loved reading the fav list 2016




I use a lot of these!




Great products!! I have yet to try lots of the products listed.




How can they announce the winners of 2016 when there's still 3 months left?? Lots of products here I've tried and enjoyed and some I want to purchase, but it's still weird to announce the winners when there's still so much time left.




j adore felicitation




Smashbox is my favourite primer! I'd use it all the time if I wasn't on a budget lol




I really enjoyed reading about @Chickadvisor Best Product Choice Awards 2016 it is nice to know that our reviews helps to promote how good these products are. I agree with so many of these products listed. It is also great so people do not waste their money and can get the best quality products.
Add Comment: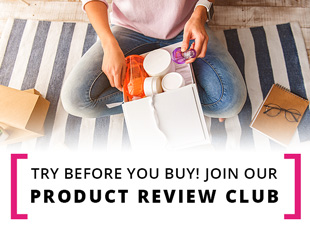 Previous Articles